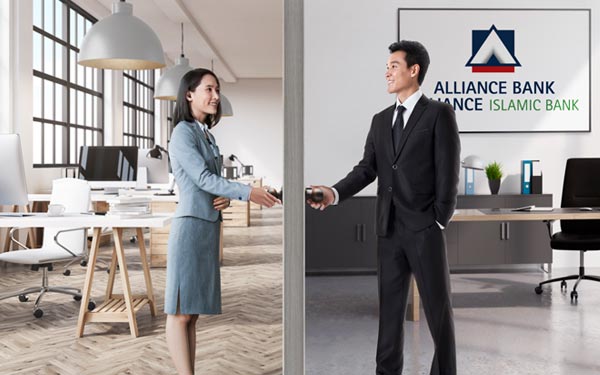 With Alliance@Work,
you and your employees can enjoy:

Attractive Rates
• Enjoy higher interest rate with our Fixed Deposit
• Lower retail interest rate at 14% p.a. for Credit Cards
• Enjoy preferred interest rate for Personal Loan/Financing
• Salary Account: Tiered interest/profit rates with Alliance SavePlus and Online Banking
• ESOS Financing at discounted rate
• Share Margin at discounted rate
• Lower brokerage fee for online and mobile order
• Unit Trust via EPF Savings with lower sales charge (no physical cash investment required)

Lower Entry Requirements
• On-site opening of Salary Accounts with zero deposit required
• Credit Cards: Minimum income of RM36,000 p.a. for Platinum and RM60,000 p.a. for Visa Infinite
• Privilege Banking membership with lower Assets Under Management (AUM) at RM100,000
• Complimentary opening of Share Trading Account

Annual Fee Waiver and Free MEPS Transaction
• Debit Card: Waiver of issuance and annual fees (with free 4 times MEPS withdrawal at local ATMs)
• Platinum Card: Annual fee waiver for the first 3 years, thereafter with 12 transactions or a minimum spend of RM5,000 p.a.
• Visa Infinite: Annual fee waiver for the first year, thereafter with a minimum spend of RM30,000 p.a.


Loan/Financing Consolidation in Alliance One Account
• Consolidate all your Loans/Financing with Alliance One Account, which allows you to pay less every month, save on overall interet/financing cost and potentially have more cash in hand
• Enjoy lower interest rate for Mortgage (standalone Term Loan) with MRTA
• Complimentary Financial Health Check


Payroll and Remittance for Foreign Employees
• Foreign employees will have a Banking Account for cash deposit and withdrawal with the Alliance Cash2Home app, first of its kind in Malaysia
• Perform remittance, prepaid reload and balance inquiries on-the-go
• Automated payroll crediting into employee's account without any cash handling
• On-site account opening and ATM activation
Let's us help you achieve more by doing less now!