Digital Savvy means Digital Savvy Sdn Bhd (129584-T), a company incorporated pursuant to the laws of Malaysia and having its registered address L-1-8, Jalan PJU 1A/41B, Ara Jaya, 47301 Petaling Jaya, Selangor, Malaysia.
Digital Savvy Sdn Bhd. (Company No. 129584-T) (hereinafter referred to as "Digital Savvy") operates the website of -www.dsavvytech.com (hereinafter referred to as "the Website") act as a portal to facilitate and, offer customers choices and better way to obtain health care services and products which suit their needs.
Digital Savvy also provides advisory and information technology related services to corporate customers for reducing their employees' health care costs.
Your use of the Website is subject to the terms of a legal agreement between you and Digital Savvy. This document sets out the Terms and Conditions.
This Terms and Conditions form a legally binding agreement between you and Digital Savvy in relation to your use of the Website. It is important that you take the time to read it carefully.
The terms and conditions set out by the Insurers might be different, depending on their respective underwriting and business practices, which might change from time to time.
1. Accepting the Terms and Conditions
In order to use the Website, you must first agree to the Terms and Conditions. By actually visiting and accessing the Website, information, resources, services, products and tools (hereinafter referred to as "the Resources") we provide, you are deemed to have fully understood and unconditionally agreed that Digital Savvy will treat your use of the Website as acceptance of the Terms and Conditions.
We reserve the rights to amend the Terms and Conditions from time to time without further notice of whatsoever. When any amendment is made, Digital Savvy will make a new copy of the Terms and Conditions available on the Website. The amended Terms and Conditions shall take effect from the time of the same being published on the Website and you shall not seek any compensation of whatsoever following such amendments.
We encourage you to regularly check our Terms and Conditions so that you are well-informed and updated about any changes. Your continued use of the Website after such changes will constitute acknowledgement and acceptance of the amended Terms and Conditions.
2. Member's Information
You should provide complete and true personal information upon registration and should be legally responsible for any false or fraudulent login. If you have any change on personal information after previous login, you may provide an online update at any time. If the personal information provided by you is either incorrect or not up to date, we reserve the absolute discretion and the unfettered right to terminate your membership and rights of using our services.
Personal Information includes but is not limited to Name, Gender, Mailing Address, Photo, Telephone Number, Email ID, marital status, information of spouse / children, occupation, profession, designation, income range, credit card details, bank account number, information of employer, race, nationality and any other information that can be used to identify You. Digital Savvy also collect body vitals including but not limited to height weight, age, food habits, BMI index, fat percentage, allergies, symptoms, physical and mental or other health conditions or medical records, history and other relevant health traits.
Indirect information may be collected by Digital Savvy when you use certain third party services on Our Site and the collection of such information is considered necessary for that purpose. Digital Savvy also reserves the rights of using analytic to track you during remarketing exercise.
3. Member's Obligations and Responsibilities
By using the Resources you agree to use these Resources only for the purposes as permitted by the Terms and Conditions and the applicable laws, regulations and generally accepted online practices and guidelines.
Wherein, you understand and fully aware that:-
(a) In order to access our Resources, you may be required to provide certain personal information about yourself (such as identification, contact details, etc.) as part of the registration process, or as part of your ability to use the Resources. You agree that any information you provide will always be accurate, correct, and up to date.
(b) In order to enable us to provide you a complete service and to access the Resources, you must provide your personal information and maintain the correctness of the information. Digital Savvy shall not be held liable for any consequences of whatsover, whether directly or indirectly, under whatsoever circumstances, if you do not update the relevant information and cause any unfinished services.
(c) You must safeguard your login information and any account you use to access the Resources. Accordingly, you are responsible for all activities that occur under your account(s). If you suspect or find out that your account is accessed illegally or your password is stolen, please notify Digital Savvy immediately so that we could take appropriate measures as soon as possible. However, these measures shall not be interpreted as you could take any form of compensation or allow you to hold Digital Savvy on any sort of obligations and responsibility.
(d) Accessing or attempt to access any of the Resources by any means other than through the Website is strictly prohibited. You specifically agree not to access or attempt to access any of the Resources through any automated, unethical or unconventional means.
(e) Engaging in any activity that disrupts or interferes with the Resources, including the serves and/or networks to which the Resources are located or connected is strictly prohibited.
(f) The act of or attempt of copying, duplicating, downloading, reproducing, selling, trading or reselling the Resources is strictly prohibited.
(g) You are solely responsible for any consequences, losses, or damages that we may directly or indirectly incur or suffer due to any unauthorized activities other than the intended use herein provided conducted by you as explained above, and may incur criminal or civil liability. We shall have the absolute discretion to ascertain what is considered as the unauthorized activity and our decision shall be final.
(h) We may provide various open communication tools on our website, such as blog comments, blog posts, public chat, forums, message boards, newsgroups, product ratings and reviews, various social media services and et cetera (hereinafter referred to as "the Open Communication Tools"). You understand that generally we do not pre-screen, scrutinise or monitor the content posted by users of these various communication tools, which means that if you choose to use these tools to submit any type of content to our website, then it is your personal responsibility to use the Open Communication Tools in a responsible and ethical manner. By posting information or otherwise using the Open Communication Tools, you agree that you will not upload, post, share or otherwise distribute any content that:-
            (i)        is illegal, threatening, defamatory, abusive, harassing, degrading;
            (ii)       infringes on any trademark, patent, trade secret, copyright, or other;
            (iii)      contains any type of unauthorized or unsolicited advertising;
            (iv)      impersonates any person or entity.
(i)        We have the right at our sole discretion to remove any content that we feel in our opinion does not comply with the Terms and Conditions, along with any content that we feel is otherwise offensive, harmful, objectionable, inaccurate, or violates any third party's copyright or trademark. We are not responsible for any delay or failure in removing such content. If you post any content that we choose to remove, you hereby consent to such removal and consent to waive any claim against us.
(j)        We do not assume any liability for any content posted by you or any other third party's users of the Website. However, any content posted by you using any of the Open Communication Tools on the Website shall become the property of Digital Savvy , provided that it does not violate or infringe any third party's copyright or trademark, and as such, gives Digital Savvy a perpetual, irrevocable, worldwide, royalty-free, exclusive licence to reproduce, modify, adapt, translate, publish, publicly display and/or distribute as we think fit.
This only refers and applies to content posted through Open Communication Tools and does not refer to information provided as part of the registration process necessary in order to use the Resources. All information provided as part of the registration process is protected by our Privacy Policy.
(k)       You agree to indemnify and hold harmless Digital Savvy and associated agents, third party service providers, and their directors, officers, managers, employees, donors, contractors and licensors, from and against all losses, expenses, damages and costs, including reasonable attorneys' fees, resulting from any violation of the Terms and Conditions or the failure to fulfill any obligations relating to your account incurred by you or any other person using your account. We reserve the right to take over the exclusive defence of any claim for which we are entitled to indemnification under the Terms and Conditions. In such event, you shall provide us with such cooperation as is reasonably requested by us.
(l) By accessing Digital Savvy's telehealth services, you may choose a medical specialty, for example, a general medical practioner or medical specialist's service. Thereafter you can either opt for having a video conferencing with your chosen Medical professional immediately or arrange an appointment for future consultations. Your appointment will be allocated depending on the availability of medical professionals.
(m) Medical professional can offer you medicine prescriptions after completing a video conferencing, of which you can opt to purchase the prescribed medicine online via Digital Savvy's telehealth service portal.
(n) You can upload your medical records and other health related data on the website of Digital Savvy in order to assist the consultations of your chosen medical professional. These medical records should be uploaded and stored in secured Digital Savvy's system for protecting your privacy and data security. Digital Savvy -is not liable to any records, data, pictures or documents submitted via other means, for examples, personal email, mobile, sms and any other communication platforms.
(o) To use telehealth services, you must attain age 18 or and above, unless you possess legal parental or guardian consent, or you are in a position which fully able and competent to enter into terms, conditions, obligations, affirmations, representations, and warranties set forth in these terms and conditions of services.
(p) Any disputes arising out of the above will only be tried in the appropriate courts of MALAYSIA, intimidating, fraudulent, deceptive, invasive, racist, or contains any type of suggestive, inappropriate, or explicit language; proprietary right of any party; employees or representatives.
4. Warranties and Guarantees
Digital Savvy does not and shall not be treated in any way as to offer any form of warranty or guarantee on timeliness, accuracy, reliability, availability, ability to meet your needs or completeness of the Website information, or quality of the results obtained from the use of the Website.
Digital Savvy has no liability and shall not be held liable under whatsoever circumstances for whatsoever reasons in relation to or arising out of the Website information and Website recommendations. We are not responsible for any sort of errors of data or information as such.
Any information or date downloaded or otherwise obtained through the use of the Website is done at your own discretion and risk, and that you are solely responsible for any damage to your computer or other devices for any loss of data that may result from the download of such content.
No information or advice, whether expressed, implied, oral or written, obtained by you from Digital Savvy associated agents, third party providers, shall create any warranty, guarantee, or conditions of any kind.
Digital Savvy further expressly disclaims all warranties and conditions of any kind, whether express or implied, including but not limited to the implied warranties and conditions of merchantability, fitness for a particular purpose and non-infringement.
5. Limitation of Liability
You expressly understand and agree that any claim against us shall be limited to the amount you paid, if any, for use of the products and/or any services.
Digital Savvy will not be liable for any direct, indirect, incidental, consequential or exemplary loss or damages which may be incurred by you as a result of using our services or as a result of any changes, data loss or corruption, cancellation, loss of access, or downtime.
6. Privacy
Your privacy is one of our main concerns. We created a separate document to outline the details of our Privacy Policy. It explains how Digital Savvy collects, manages, processes, secures your private information. To read our Privacy Policy in its entirety.
7. Proprietary Rights
The Website contains materials including but not limited to text, graphics, website name, images, logo and other information (hereinafter collectively known as "the Contents").
You acknowledge and agree that Digital Savvy owns all legal right, title and interest in and to the Contents, including any intellectual property rights which subsist in the Contents.
Unless you have agreed otherwise in writing with Digital Savvy, nothing in this Terms and Conditions gives you a right to reproduce, distribute, display or transmit the Contents.
8. Linked Websites
Digital Savvy might link to third party's website. Digital Savvy is not responsible for the privacy, information or other practices of these third party's website, despite the inclusion of such links within the Website. Digital Savvy does not endorse andis not responsible for the contents of these linked websites.
9. Termination of Use
Digital Savvy reserves its rights and on their sole discretions, suspend or terminate your access to all or part of the Website without giving any notice and for any reason, including but not limited to, breach of the Terms and Conditions.
Any suspected illegal, fraudulent or abusive activity may be grounds for terminating your relationship and may be referred to appropriate law enforcement authorities.
Upon suspension or termination, your access to the Website will be denied immediately. Digital Savvy reserves the right to remove or delete any information that you may have submitted to us, including any account or login information.
Digital Savvy reserves the right to change, suspend, or discontinue all or any part of the Website or the services at any time without any prior notice or liability.
Digital Savvy shall not be held liable for any legal responsibility due to such change, suspend, or discontinuance or any inconveniences affecting user, contact person or third parties.
10. Payments of Telehealth Services
The usage of Digital Savvy's payable telehealth services, i.e. consultation with a medical professional or buying medication online, you shall pay according to the instructions stated in payment page at the time of usage. Digital Savvy provides the Doctor with Telehealth Portal for medical services to customers via video conferencing and in consideration for this, the Doctor agrees for fees to be apportioned as stated at APPENDIX A herein. Payment amount stated on payment page may not reflect the actual pricing of service which Digital Savvy providing to Corporate users or its employees. The corporate customers will be billed accordingly based on agreed commercial terms and conditions.
While facilitating payment method(s) on website, Digital Savvy is not responsible or liable on whatsoever loss or damage arising directly or indirectly to you, because of:
Lack of authorisation for any payment transaction(s)
Exceeding the preset limit agreed by you and bank(s) or any financial service provider or
Any payment issues arising out of transaction, or
Decline of transaction for any other reason(s)
11.Cancellations And Refunds
Digital Savvy shall act as an intermediary linking you with medical professionals, i.e. physicians and pharmacists. In the event of your appointment is made and confirmed, Digital Savvy shall inform medical professional who is assigned to render services to you at agreed time, date and mode of providing such services. Once an appointment has been made and confirmed at our end, no paid amount is refundable, in the event of any cancellation is initiated by you thereafter.
On special and unusual scenarios, Digital Savvy may exercise its discretion and approve a full or partial refund, i.e medical professional becomes unavailable on confirmed appointment or alternative medical professional is not arranged as replacement to consult you.
12. Prescription Transfers and Requests
By finishing the online signup process and adding your payment method, you give Digital Savvy consent to transfer your medicine prescriptions from your doctor(s) and / or reach out toDigital Savvy's partnering pharmacy companies or clinics for delivering your prescribed medicines via our appointed courier service providers.
13. Disclaimer of Telehealth Services
You understand and accept that our website is a platform you obtain services of medical professionals by making appointments for chat, phone or video consultation. Although Digital Savvy has taken all the necessary actions and verify the authenticity of medical professionals, you must agree that Digital Savvy is not responsible nor liable for any inadequacies including but not limited to misconduct, injury caused or lack of knowledge from the end of medical professional. Digital Savvy is not the party to any interactions nor take any liability arising from such acts of medical professional.
All medical professionals are solely responsible for the services provided to you. Digital Savvy does not practice medicine or any other licensed profession, therefore Digital Savvy does not interfere with professional practices. Medical professionals are responsible for their services and comply with requirements and regulations applicable to respective professions and licenses.
None of third-parties nor Digital Savvy which promote telehealth / pharmacy services, or share you the link to these services, shall be liable for any professional advice you obtain from this platform.
You understand and agree that in no event will Digital Savvy be liable for any decision made or action taken in reliance on the information contained on, or accessible through this website. Reliance on any information and services provided by, or otherwise appearing on this website is solely at your own risk.
Telehealth / telepharmacy services rendered by this platform is not serving as replacement of your primary physician care nor acting as your permanent medical home. You are free to continue seeking helps or follow-up care from your primary care physician and other medical professionals, whenever such action is deemed appropriate.
Despite all the preventive efforts implemented by medical professionals, however, as with any health services, there are potential risks arising from telehealth services. These risks include, but not limited to the following :
In rare cases, information transmitted may not be sufficient (e.g. poor resolution of images) to allow for appropriate health care decision making by medical professional;
Delays in evaluation or treatment could occur due to failures of the electronic and computer equipment. Should these scenarios happen, you may be contacted by phone or other means of communication for executing necessary services.
In rare cases, a lack of access to all of your health records may result in adverse drug interactions or allergic reactions or other judgment errors;
Although the electronic systems we use will incorporate network and software security protocols to protect the privacy and security of health information, in rare instances, security protocols could fail, causing a breach of privacy of personal health information.
By accepting our telehealth services, you have acknowledged and accepted the following terms:
No results nor outcomes are guaranteed or assured from the telehealth services rendered by medical professional.
Medical professionals reserve their rights to determine treatment and advice related to your medical conditions. They can elect not to provide telehealth services via this platform.
Digital Savvy does not endorse any specific medical professional nor offer any guarantee on their quality of services. Any such recommendations that are done by any Digital Savvy's customers, are deemed not verified nor acknowledged at our end.
Digital Savvy will ensure that medical professionals providing audio/video consultation and e-prescription are fully qualified and registered with Malaysia Medical Council ( MMC ) and actively holding valid Annual Practicing Certificate ( APC ).
The contents shared on website of Digital Savvy is general in nature and provided for informational purposes only, thus does not constitute as professional recommendations nor advice of any kind.
You agree to grant Digital Savvy a non-exclusive, worldwide, perpetual, irrevocable, royalty- free, sub-licensable right to exercise the copyright, publicity, and database rights you have in Your information, in any media now known or not currently known, with respect to Your information to enable Digital Savvy to use the information for the purpose of providing its services.
You release and indemnify Digital Savvy and/or any of their officers and representatives from any cost, damage, liability or other consequence of any of the actions of the Users of the website and specifically waive any claims that you may have on this behalf under any applicable law. Please note that there could be risks in dealing with underage persons or people acting under false pretense.
14. Conflict
In the event that there is any conflict between the English version of the Terms and Conditions and the Privacy Policy and its corresponding version of Bahasa Malaysia, the terms in English version shall prevail.
15. Governing Law
This website is managed by Digital Savvy whichhas an office located in Malaysia. The Terms and Conditions, and your relationship with Digital Savvy under the Terms and Conditions shall be governed by the laws of Malaysia.
All claims and disputes arising from the Terms and Conditions will be litigated within the courts of Malaysia.
You and Digital Savvy agrees to submit to the exclusive jurisdiction of the courts of Malaysia.
APPENDIX A – FEES
Charge for each telehealth video conferencing is RM20 or RM30 for duration of 10 minutes consultation or below
* We charge the same rates everyday of the year, regardless if it's a public holiday or a weekend. This charge per telehealth video conferencing is apportioned between Doctor and Digital Savvy as follows: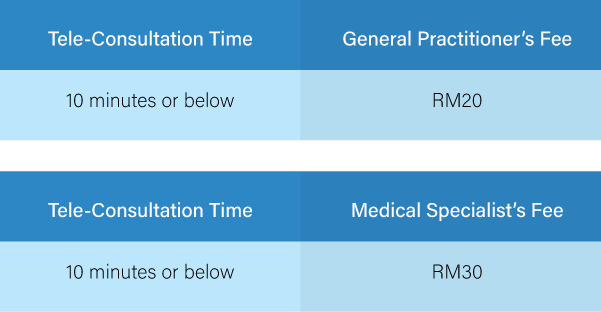 Contact Information
If you have any questions or comments about these our Terms of Service as outlined above, you can contact us at:
Digital Savvy
Office address :
A-08-09, Block A, Tropicana Avenue,
No.12, Persiaran Tropicana,
47410, Petaling Jaya,
Selangor, Malaysia
Company registered number: (1244396-D)
Website: https://www.dsavvytech.com
Email ID: [email protected]
Telephone Number: +603 7886 2919